Daan van Golden was awarded the Dr A.H. Heineken Prize for Art 2004 for his versatile output as an artist and his ability to place art in a new context, time and again.
Biography
Daan van Golden (born in Rotterdam in 1936) lived and worked in Schiedam, the Netherlands. After at-tending technical school, he enrolled at the Rotterdam Academy of Fine Arts and Technical Sciences, where he specialised in painting and took classes in graphic techniques. He also worked as a window dresser for De Bijenkorf, an exclusive chain of department stores. He spent 1963 to 1965 in Japan and has travelled widely since then, with long sojourns in such places as Morocco, India, Indonesia, and North and South America. His travels have found their expression in his work.
There have been two major solo exhibitions of Daan van Golden's work, one organised by the Boijmans Van Beuningen Museum in 1982 (Daan van Golden – 1963-1982) and the other by the Stedelijk Museum in Amsterdam in 1991 (Daan van Golden – Works 1962-1991). Van Golden was one of the artists featured in the Dutch pavilion at the 1999 Venice Biennial. Solo exhibitions have been organised in Geneva, Dijon, Paris and Göteborg. Van Golden's work can also be viewed regularly at Galerie Micheline Szwajcer in Antwerp.
Daan van Golden died on 10 January 2017 in Schiedam.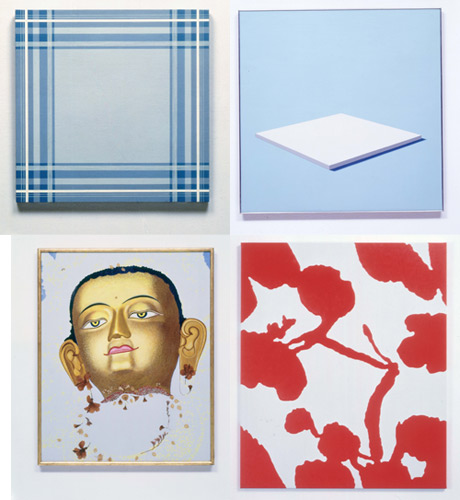 Clockwise: Composition with bleu, White painting, Heerenlux, Buddha