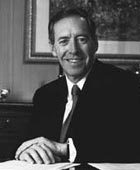 Trijntje van Altena
2020-03-28T17:53:36+01:00
Dennis J. Selkoe was awarded the Dr A.H. Heineken Prize for Medicine 2002 for his invaluable contribution to the development of the molecular study of diseases of the brain, in particular Alzheimer's disease.
When the brains of Alzheimer's patients are examined, they are found to contain 'plaques' consisting largely of amyloid beta proteins. For Dennis Selkoe, this formed the starting point for his research in the late 1970s. By applying methods drawn from biochemistry and molecular biology, he has slowly but surely – and with great patience – managed to unravel the molecular components of the puzzle which is the complex disorder known as Alzheimer's disease. What happens in the brain cells? Which substances play a role? What comes first, what is a consequence of what? Progress in finding answers to these questions has now reached the stage where the first patients are taking part in a trial with drugs intended to delay or prevent the disease. The social importance of this development is difficult to overestimate.
Selkoe's work has, however, also led to unexpected insights into the functioning of membrane proteins, which have much wider implications for biology. Our better understanding of the ageing processes in the brain and the onset and progression of Parkinson's disease is now yielding results.
Further reading
Haass C., Schlossmacher M.G., Hung A.Y., Vigo-Pelfrey C., Mellon A., Ostaszewski B.L., Lieberburg I., Koo E.H., Schenk D., Teplow D.B., Selkoe D.J., Amyloid beta-peptide is produced by cultured cells during normal metabolism. Nature 359 (1992) 322-325.
Yamazaki T., Selkoe D.J., Koo E.H., Trafficking of cell surface ß-amyloid precursor protein: Retrograde and transcytotic transport in cultured neurons. J. Cell Biol. 129 (1995) 431-442. Xia W., Zhang J., Perez R, Koo E.H., Selkoe D.J., Interaction between amyloid precursor protein and presenilins in mammalian cells: Implications for the pathogenesis of Alzheimer's disease. Pro.Natl. Acad.Sci.USA 94 (1997) 8208-8213.
Wolfe M.S., Xia W., Ostaszewski B.L., Diehl T.S., Selkoe D.J., Two transmembrane aspartates in presenilin-1 required for presenilin endoproteolysis and y-secretase activity. Nature 398 (1999) 513-517.
Bertram L., Blacker D., Mullin K., Keeney D., Jones J., Basu S., Yhu S., McInnis M.G., Go R.C., Vekrellis K., Selkoe D.J., Saunders A.J., Tanzi R.E., Evidence for genetic linkage of Alzheimer's disease to chromosome 10q. Science 290 (2000) 2302-2303.
Biography
Dennis Selkoe was born in New York in 1943. He obtained his Bachelor's degree at Colombia University and his Medical Master's Degree at the University of Virginia School of Medicine in 1969. From 1975 he was attached to Harvard Medical School in Boston, where he became Professor of Neurology in 1990. In 2000 Selkoe was made 'Vincent and Stella Coates Professor of Neurologic Diseases', also at Harvard Medical School. He currently works as a neurologist in the Brigham and Women's Hospital. Selkoe enjoys an international reputation among his professional colleagues as the best researcher in the field of molecular pathogenesis of Alzheimer's disease. He is a member of several editorial committees of scientific journals dealing with neurological topics, such as the Annual Review of Neuroscience and Neuron. His scientific articles in Nature, Annual Review of Cell Biology, Annual Review of Neuroscience, Cell and Neuron are highly influential. It was therefore no surprise when Selkoe appeared at number 14 in the list of the 'Best Brains of the Brain Decade', which was drawn up by Science Watch on the basis of the 200 most-cited articles on neuroscience in the ten years between 1989 and 1998. Selkoe has received a great many distinctions, including an honorary degree from Harvard University, the 'Mathilde Solowey Award in the Neurosciences' from the Foundation for Advanced Education in the Sciences (NIH), the Boerhaave medal from the University of Leiden, and the 'Pioneer Award' from the Alzheimer's Association in the United States.